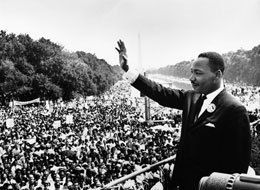 How do you honor a great man? A man who sought to bring civil liberties and equality to our nation? With a bank holiday and a day off!
President's Day, Columbus Day, MLK Day signify three day weekends for anyone of school-age. For the rest of us, these are days to catch up on errands (no bank runs though) and relax... That is, of course, until MLK Day was officially dubbed a day of service.
I gotta say, props to all the folks who went out and did some service. For me, between the snow and the sprained ankle, I was thankful for a day to rest.